Interview / JAKUB KOPEC
"The Only Thing I Find Interesting in Architecture Is Diversity."
I spoke to the architect and lecturer Jakub Kopec about his collaboration on exhibitions and its connection with permanent architecture. Exhibition architecture as an ephemeral kind of architecture has no natural support in the world of education or professional life. Besides, a few people are likely to practise it on the continual basis. Jakub Kopec has a relatively broad portfolio of such projects and a discernible signature style. Discernible, as there are things to discern, and comprehensible – and that is, after all, one of the factors of continuity.
Surfaces, fields, unfolding space that respects the physical boundaries of a place, takes them into account, yet at the same time traverses, goes beyond them, unstopped. Reaching heights and widths, the installation is always related to the place and contents of the exhibition and, simultaneously, it is not limited, it has no fear, it is their equal companion. Even though the boundaries between the space, the exhibition architecture and the exhibits are clear, the installation gives me an impression of an organic whole. It is a comprehensive work with space.
The architectures of exhibitions he (co)worked on are present. Rather than being like plinths, hard and rigid, forcing the exhibits to stand and divide one from another, they are soft, malleable; the exhibits are laid in them, lying and freely overlapping from one to another. In a bed environment, they could be a blanket. The bed is an exhibition space on which somebody/something is laid.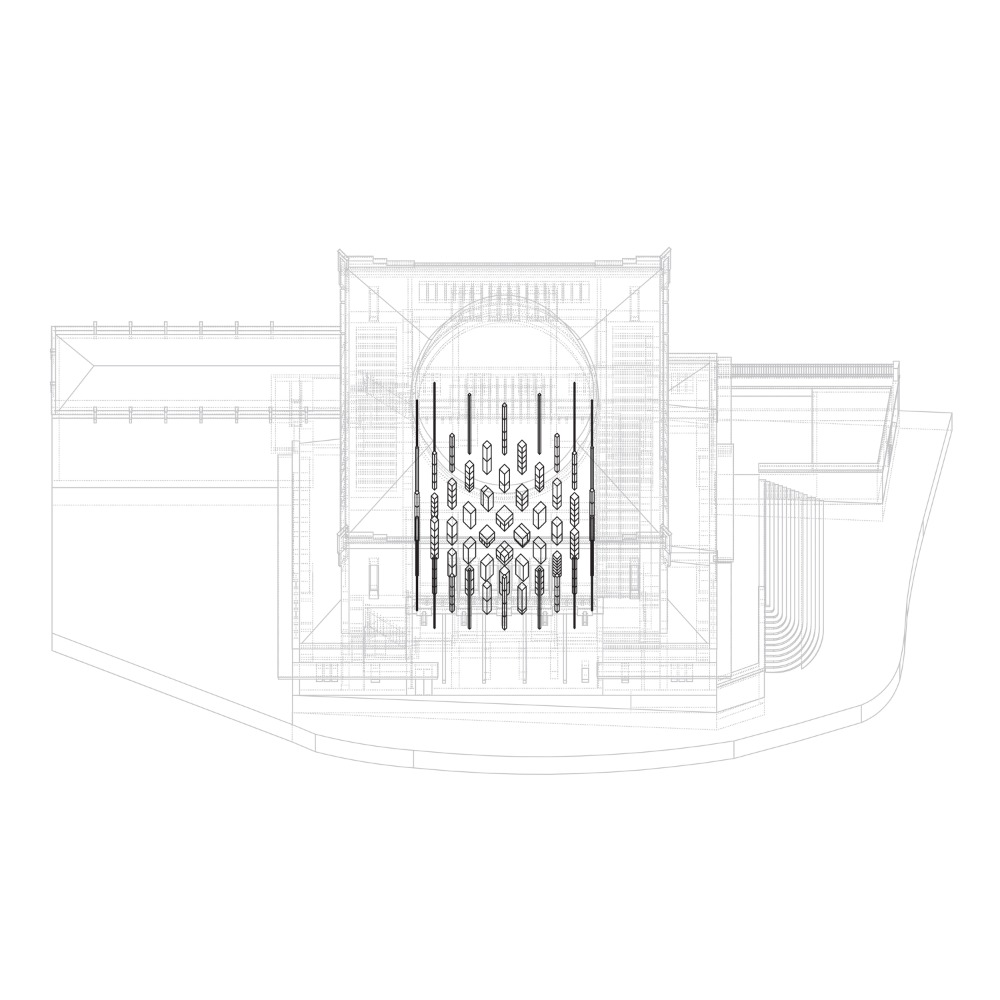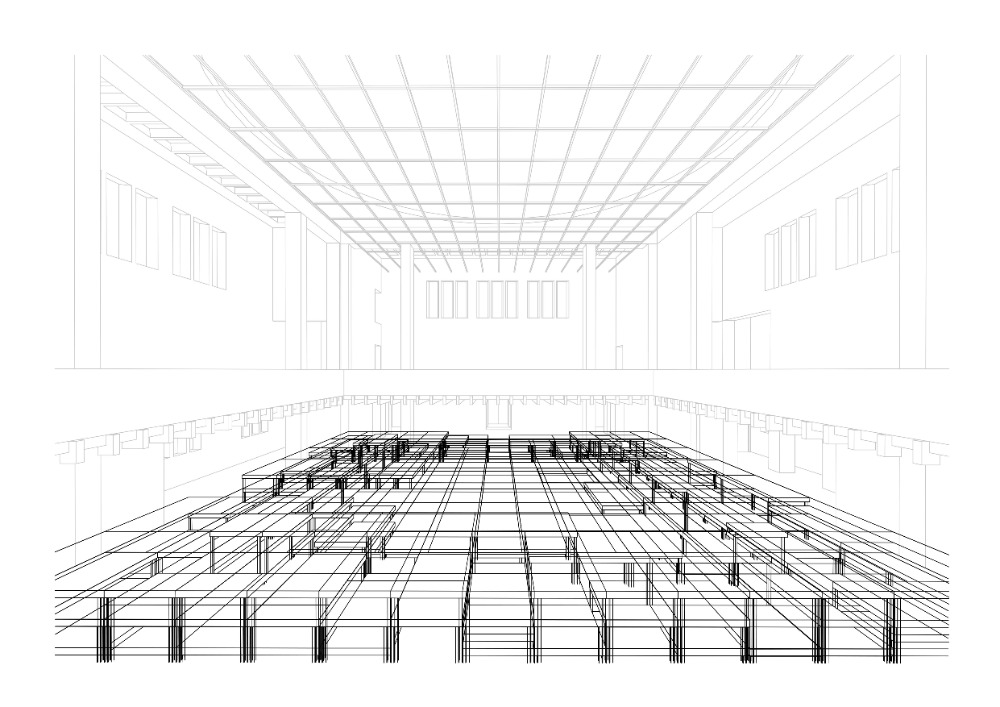 GS: What is the difference between the architecture of an exhibition and the exhibition of architecture/architectural exhibition?
JK: Distinguishing between the architecture of an exhibition and the exhibition of architecture is not interesting for me. I see some inspiring differences in tiny nuances, but they are distinguishable only at the moment when both concepts blend into each other. Both architecture and exhibition always somehow stand or are exposed in our way and it can be interesting to see in what manner they do so: by exhibiting themselves more openly or attracting more of our attention and curiosity or even by entering our personal space. I like such an obfuscation of boundaries between them, between exhibitionism and intimacy, form and content, fixture and exhibit, i.e. between the architecture of an exhibition and the exhibition of architecture… obfuscation that leads to surprising situations. It fills me with joy when architecture/exhibition creates such situations. Thus, I view an architect/curator as a guide or chaperone on the way between them.

You are both an architect and a curator, or an architect/curator. In your interview with Jan Tabor and Imro Vaško (Curating Frees Architecture in ERA21 mag) Imro (as to the changing role of an architect and expanding architecture as a notion) called curating as such "an authentic expression of architecture". An exhibition as a format – what position does it have within your (architectural) practice?
The term "curation of architecture" that we developed in the given magazine was an attempt at redefining the traditional role of an architect as a singular creator/master that holds a certain superior, managing and therefore a position of power. Our grasp on a curator's or, more generally, a mediator's approach was different. We viewed him/her as a certain intermediary in the creative process that is inherently open or unfinished, based on the negotiation between bottom-up and top-down principle, on the interdisciplinary cooperation, on critical thinking, on sensitivity… It represents a certain active form of creation. What I mean by curating is this extended concept of work of an architect, not the job of a curator in the traditional context of execution of exhibition projects. Perhaps, curators try to review their role in a similar manner…

I graduated from architecture and received training in the field, so I view the world from this angle which seems to me rather limited and one-dimensional from the start. It tends to be justified by the importance and complexity of the profession, but it mostly has to do with one's own self-conceit. I'm trying to overcome my own limitedness and the environment of architectural media and exhibitions gave me the first opportunity to do so.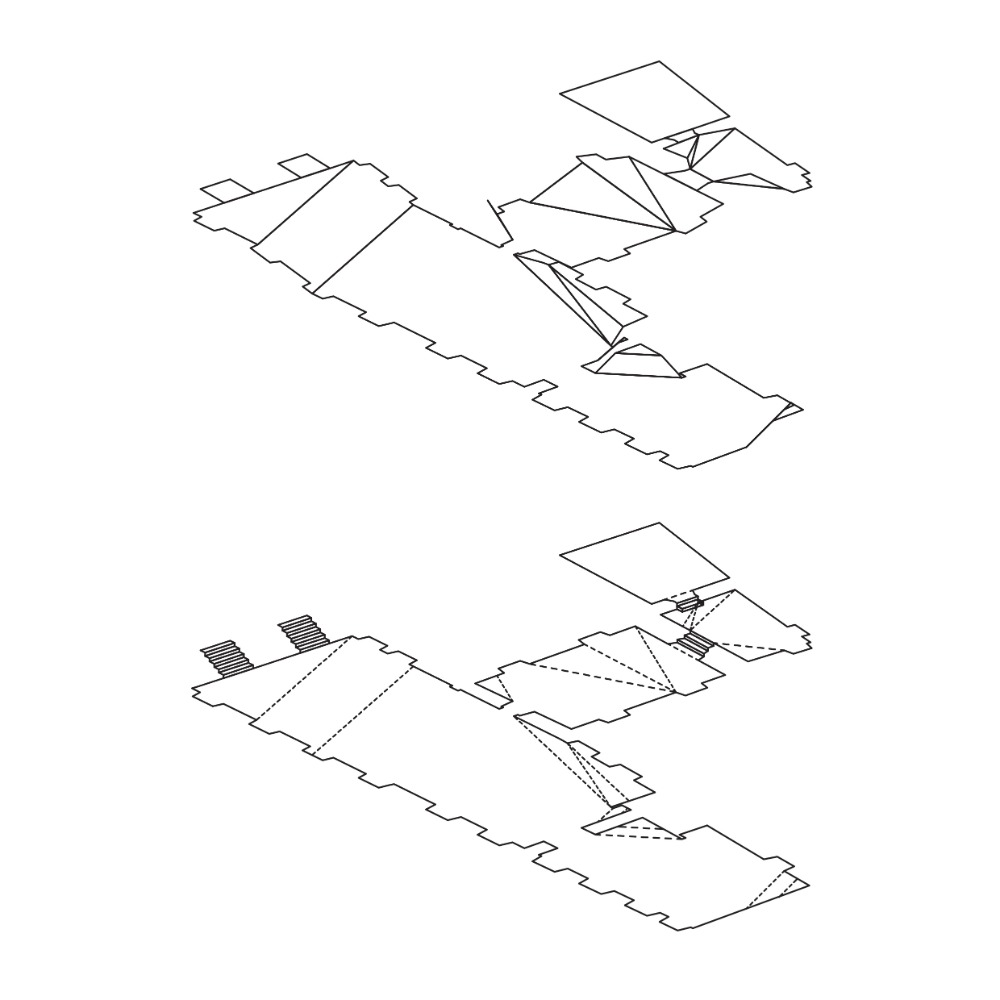 How do you overcome the limitedness of the position of an architect within the projects you work on?
When I started studying architecture, the main role of an architect was to define the concept that ought to express the overall plan down to the last detail. Designing, refining and finalising the concept to a flawless final realisation is what makes a master architect. What does not come off (and there is a lot of it over the course of that lengthy process lasting years) is considered a mistake. The architects who wish to be infallible masters complain about the detriments caused by the bureaucratic machine, construction companies, willful investors and envious colleagues or critics. In place of this fixed idea that everybody is against us, that our conceptions must withstand all these forces, I'm looking for approaches that could be open to unpredictable circumstances that would even push them creatively further. In place of fulfilling the pre-set definite concept, I see more and more significance in the complex grasp of a design that lies in the openness towards coincidence, otherness, in seeing mistakes as new creative stimuli, in incompleteness as a freedom to users…

I try to be active and critical within the projects I take part in and it is important for me that the rest of the participants have the same approach too. Not being just the processor of documentation. Overcoming the usual competences, not only listening to each other, but also having a say across disciplines, given roles. Participating, i.e. co-creating not just the design and the project, but its assignment as well. Not being just a design supervisor. Trying out to be a technical supervisor of the investor, a supplier of one's own building in construction, its operator or an active user. These are possible motivations to re-evaluate the learned approach towards architecture, towards its transgression. Thus, an exhibition space represents a great training field to test new approaches.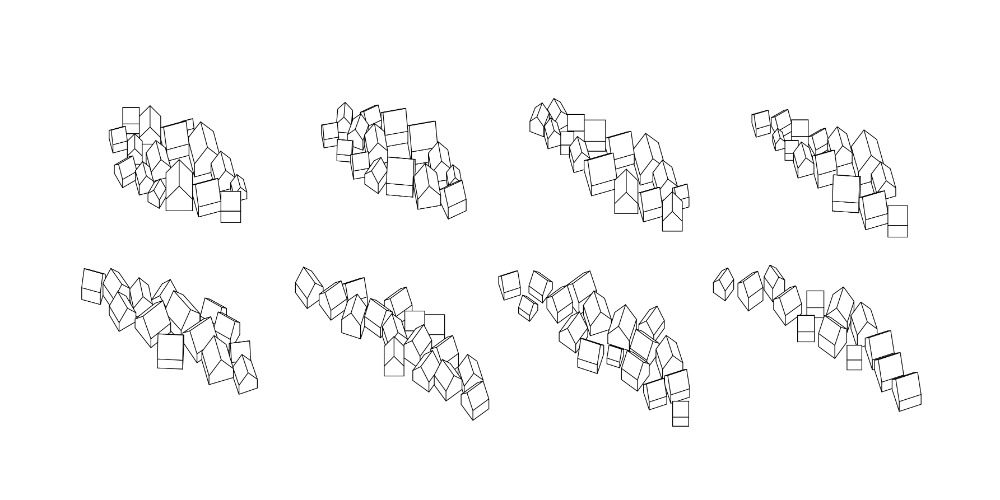 What "architectural" themes do you open when working on individual exhibition projects?
One of the architectural themes I'm interested in is diversity. Deleuze and Guattari spoke of multiplicities and rhizomes that are not based on definite states, but on processes, on becoming. Palo Fabuš coined an onomatopoeic word "vznikavost" (translator's note: meaning something that is in the process of arising) that develops the Deleuze's virtuality, i.e. what is possible, creative, unpredictable, other. It is not control that grows with growing diversity or complexity, but the ability to improvise. I don't believe in modernity and its linearity, or in some higher dimension we would be moving towards. Everything occurs in cycles, in a non-linear way and in relationships. I seek such relationships and contexts in what is at disposal, fostering further offshoots, so that they can live their own life.
"Vznikavost", the term Palo Fabuš uses, refers to lasting, creating, to an opposition to spatiality as something ready-made. How does such a performative and relationship-driven approach behave in connection with the exhibiting space/is linked to the exhibiting space?
The curatorial pioneers from the 1960s and 1970s in the Obrist's interviews have brought up the importance of a certain processuality, incompleteness. And here, architecturally speaking, the white cube does not represent a new "kunsthalle" (museum of contemporary art), but a period of improvised provisional arrangement that preceded it. In so far as culture is a complex of the established and the proven, art is a domain of the ever-establishing, the arising, of the creative, the critical. A blessing in disguise, many Slovak exhibition spaces possess such unestablishedness, I mean as long as you can work further on it, develop its qualities.

My very first intense contact with the cultural and artistic scene in Slovakia was through such an establishing space, the New Synagogue in Žilina. Back then it was a buzzing construction site, not the half white cube and half renovated Behrens (translator's note: the synagogue's architect) like it is now. Of course, its today's "finished" form is also fine; yet it would surely look different without the improvised process that had preceded it. The opposite case is, e.g. the Jozef Kollár Gallery in Banská Štiavnica where the provisional arrangement gradually preserved as something official that might not be moved even by the surge of energy of the last year's guest project called Zlaté časy (Golden Times). I wish I were wrong.

So we have a display space with a certain architecture in place. Sometimes it is on the brink of existing, providing thus completely different options to intervene in it, at other times it is "ready" and interventions in it are important only in exceptional cases or when the space is becoming all too familiar. And then there are different ways of displaying in this space. They represent the world by itself, as they carry their own content. Often there is no need of any architecture or the task is simply how to place them in a given exhibition space. It is similar with exposing custom-made artworks. The architecture of an exhibition, as a space for testing one's own strategies and tactics – which interests me the most – is something not natural, depending on the specific circumstances of a given situation. And even in the case such a generous intervention is possible, it always represents just one of the layers of an exhibition which rather than competing with the displayed, should make a sort of a space in between an exhibition space and an exhibition, a space addressing both.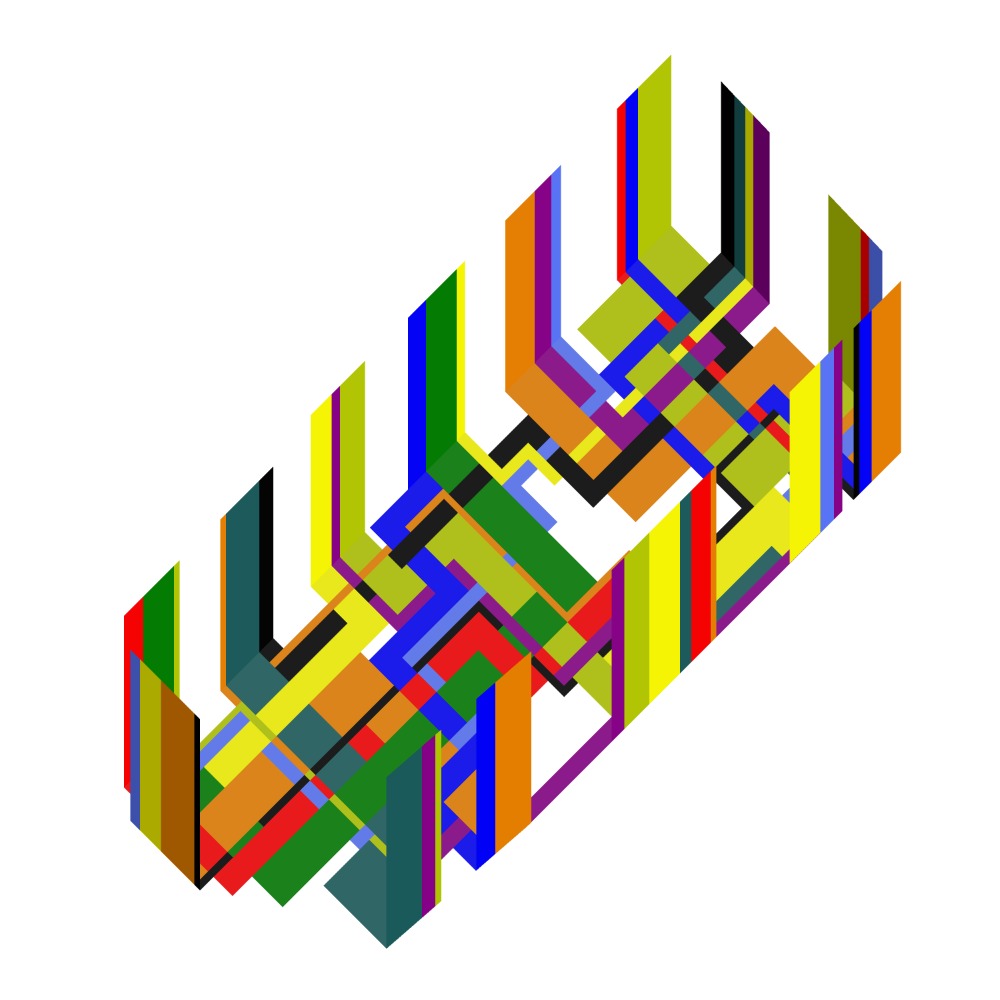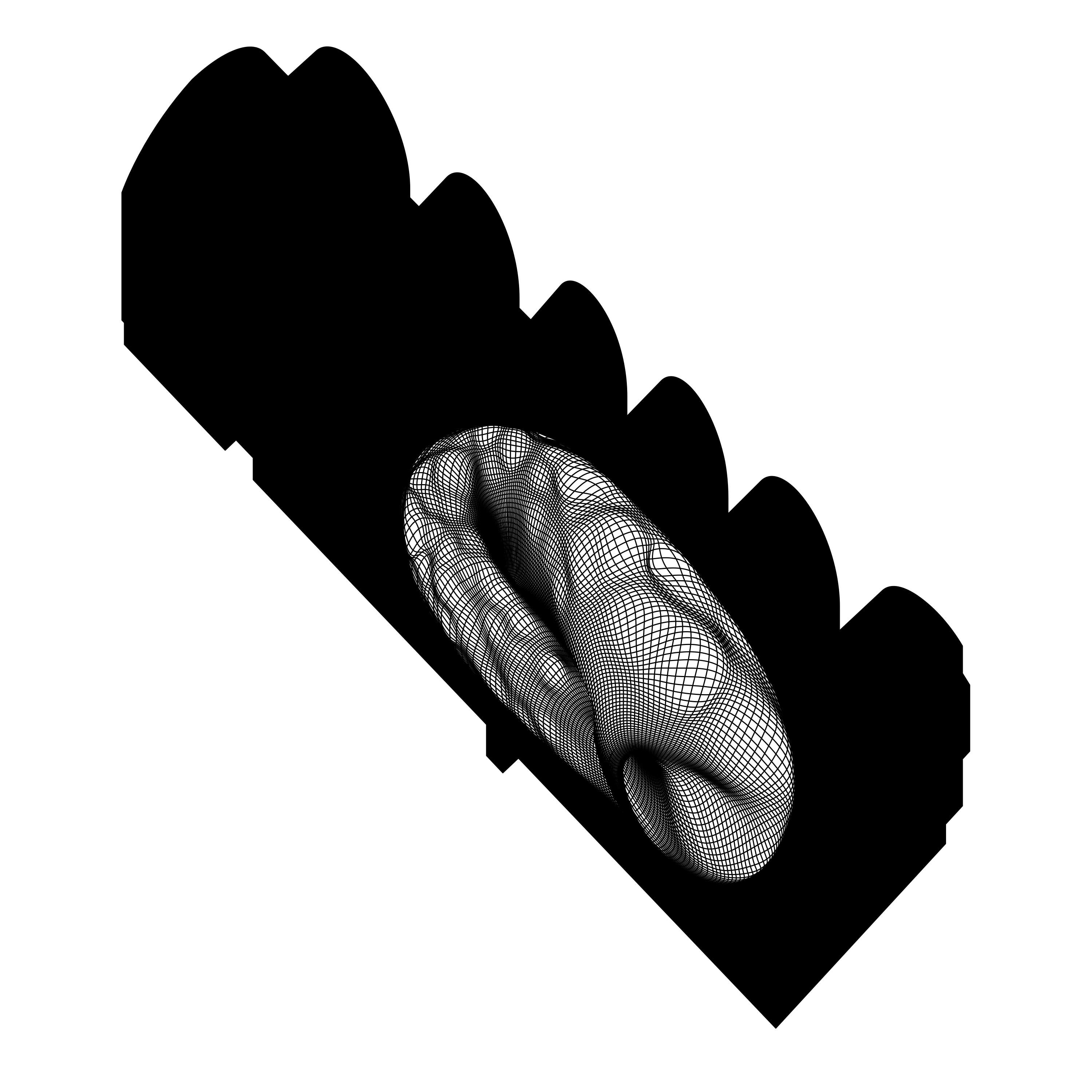 Does a (exhibition) space by itself define the "curatorial approach" as such – does it outline/challenge some ways of arranging the exhibition or does it influence its content?
My vision of curating has a lot in common with using a building. As the American sociologist Richard Sennett described it – when we have a clear idea about the building or its project before it is realised, before people start using it, we lose a certain adaptability and liveliness of its environment. Such a ready-made project presents a closed system. On the contrary, an open system provides a certain rate of freedom to adopt the building by its users.

To make this freedom meaning-forming rather than nondescript, a polyphonic dialogue of all the participants is crucial. It is impossible to do business with such a creative dialogue in designing, although the new marketing strategies of some real estate agents pretend otherwise; the goal is not to achieve effectivity, but affectivity. We can have a wonderfully designed house or a gallery in our case, but if it's not possible to display things in it in a different way than the "operating rules" or usual "exhibiting standards" permit, it is nothing but an empty shell failing to make new meanings and so, ultimately, perhaps it is not a gallery at all.
And, vice versa, can a (temporary) exhibition be imprinted into some space for good and change it? So that there is something that remains from it or it takes something from the place.
It would be great to subversively change the whole house! Naturally, we can test the possibilities of a given space, some of them may influence its long-term arrangement. After all, the synagogue too bought their portable platforms that have proven themselves, but that's more an issue of furnishing of a space than of a space itself. Another case is a worn-out brown wall-to-wall carpet in the Jozef Kollár Gallery that we – thanks to several exhibitions – made continually disappear. It began with its deflecting from its state preserved by decades to a new "carpet landscape", through its partial removal and treatment of thus uncovered concrete floor, to another installation that worked with colourful stripes of a new carpet, but this time really only a temporary one… What I like about a display space is its temporality, different speed and a momentum of the things taking place inside. It can be a performance lasting a couple of minutes, an installation lasting a couple of weeks, a long-term exposition lasting a couple of years or a space itself lasting several decades or even centuries. What's most interesting for me are the moments of their mutual influence. Events, layering, recycling, transformation, rise and demise.
What was is it like to work with the Žilina synagogue as a construction site and a "finished" synagogue?
Working in the synagogue is always a treat, primarily because of all the people who are behind its reconstruction and operation. The building is unique with its capability of being a temple, an auditorium, a cinema, an exhibition or concert hall – thanks to the central elevated space with a gallery and a dome that is its biggest strength as well as weakness. Each installation has to deal with it somehow. I was lucky to do so for three times and it was equally challenging each time. Not due to that geometrically perfect centre, but due to its imperfection; a glitch is always more inspiring than any kind of order, order starts being bearable only after its disturbance, staining. As a matter of fact, I haven't worked there with anything else, but with a geometrical deviation from the original "ideal" project and the realised building. If the synagogue dome were a spherical cap that according to Behrens' plan ought to be inscribed into its inner space, the sphere would levitate several feet over the floor. For the first time, we filled this gap with a temporary platform made out of adjustable portable stage platforms where the accompanying programme of events took place. The second installation virtually embodied the imaginary sphere in form of a giant ball with which you could play in the interspace caused by the deviation. The third time it was an intentionally (I'd even say too) monumental field of imperfect display pedestals which were aggregated from variously worn-out display plinths borrowed from other exhibition institutions. It all was hyperbolised by several wooden beams and planks. I guess we'd able to find many other similar deviations between the synagogue as a construction site and the "finished" synagogue. Maybe it's time to finally pay attention to them.
How do you begin and how do you end? What do you enter with into the exhibition (project) and what do you leave with?
As I mentioned before, I seek some interesting aspects of a given space or an environment, then I develop them, so that they can generate new situations. I test various strategies and tactics. If some of them prove useful, I try to apply them further in the scale of architecture, urbanism and landscape. For me, architecture is a vehicle of a given message that needs to be arrived at by dialogic means and it needs to be capable of producing new meanings. In my eyes, exhibition installation is emerging architecture, a model 1:1 environment whose temporariness allows to draw lessons from one's own mistakes without long-lasting or permanent consequences.
What do you deem good architecture of an exhibition, or which one has lately been particularly memorable?
I'm not fond of distinguishing between what is good and bad, when one thing is under the influence of another. For me it's important if an exhibition sparks new interpretations, which can happen quite accidentally too. The corona period in my mind is framed by two exhibitions that were inspiring by their architecture and their story as well. The first one was interrupted by the restrictions right after its opening. It is the Pro/Měna Karlína (Karlín Ex/change) by Eliška Málková and Lynda Zein in VI PER gallery that link a flood and developing practices based on the example of the latest urbanist development of Prague's city part Karlín. The second had its closing postponed until the next relaxing of so-called measures. What I have in mind is Tušenie svetla (The Prescience of Light) by Lucia Tkáčová and Jaro Varga in Jozef Kollár's Gallery, drawing upon the story of the lost book of Czechoslovak sci-fi writer Ludvík Souček. Now that the exhibitions are in full swing again, I'm quite busy with the ones I take part in…
Jakub Kopec is an architect and a lecturer. He is in charge of the n-1 subversive architectural studio. A member of the editorial team of ERA21 magazine and 4AM/Forum for Architecture and Media association, also a founder of the eponymous publishing house. He is an active editor and curator of different exhibition, lecture-related and educational projects. An author of many temporary installations and "permanent" structures. He won CE ZA AR 2019 award in the Exterior category for his project of the New park in Leopoldov. He is the head of the Studio Urban Strategies at the Department of Architecture at AFAD in Bratislava.