Speed Date / PALO ČEJKA, a graphic artist and designer, a punk, an occasional slam-poetry artist, a garden lover, a musician and Bratislava's self-made product.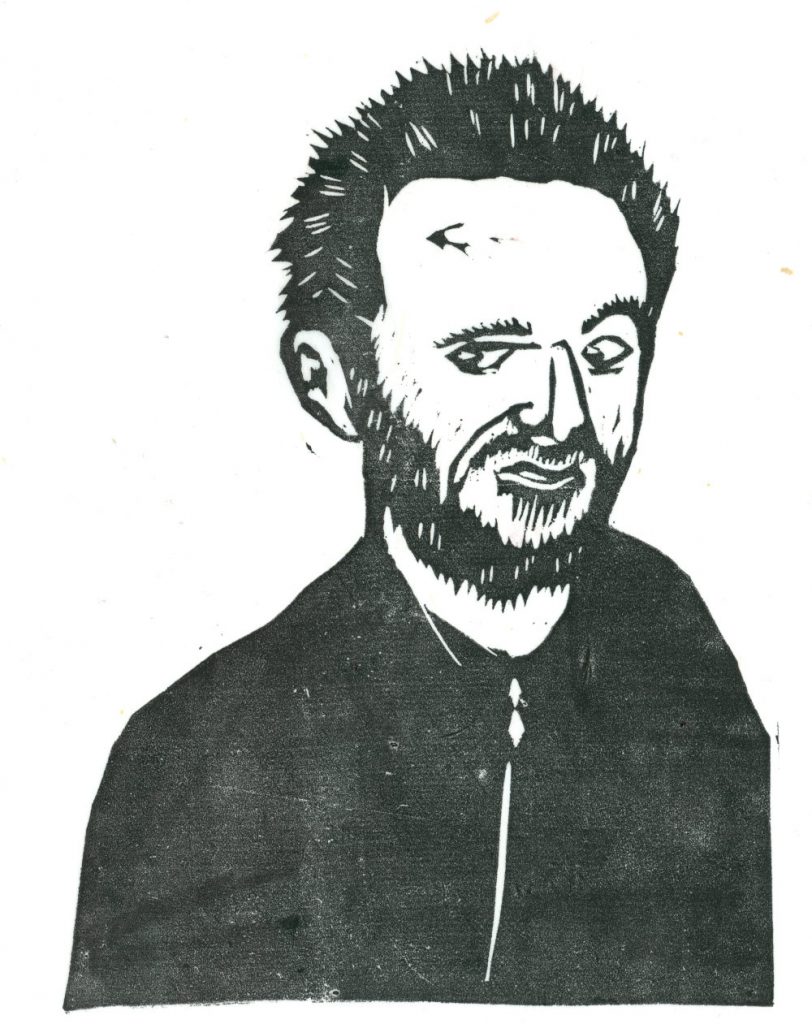 Where are you from?
BA.
Where did you study?
In Karlova Ves, then in Rača (translator's note: Bratislava's districts) and then on Hviezdoslavov's Square and Drotárska Street (translator's note: that's where The Academy of Fine Arts and Design is located).
Who was your best teacher?
I've never liked school. I almost didn't mind AFAD, I liked going there, but I didn't really take notice of the teachers. I spent 11 years at a primary art school in Dúbravka district where Dano Fischer was teaching at that time, so I'd say it was him.
Who were/ are your parents?
A psychologist (mum) / doctor (the one that does testing on animals).
What don't you enjoy in design?
Vectors… (the cold ones, lacking sense and feeling). Insulation. Shopping palaces. Banks. Parking places in the places of houses. Congestion. Places that don't make streets. A disturbed street line. The details of buildings that enable nothing else but piling rubbish.

And on the contrary, what do you?
When somebody builds something by themselves.
What do you listen to?
All kinds of things. At the moment it's mostly: Sleep, Belzebong, Robbers' roost, Sean Wheeler & Zender Schloss, Turbonegro, Bongzilla.
Your favourite film or cartoon?
South Park. As there is everything… And Bastards! (the inglorious ones)
Who do you respect as an authority in and out of your field?
I respect my friends. In my field and out of it too.
What thing did you last buy?
A banana.
Do you buy professional literature? What was the latest book?
Hardly any. Last time it was "Art after 1900".
Do you vote?
Yep.
Who throws best parties?
I do.
Your favourite dome?
Really a dome? I don't like domes.
Party dress. Made by…?
The best outfit for a party is the one I've worn for a long time. Then you just chuck it away…
Your hero from the past?
My aunt Zuza.
Best/nicest house?
Mi-i-i-ne.
Do you have any stereotypes when you work? How do they show?
I always do the same.
What's on your desktop?
A kind of a mustard colour. On the second one: The Abbey in the Oakwood.
Best exhibition, work of art?
Franta Skála in the Prague's Rudolfinum (2004 – 2005).
What do you respect both from the local and foreign design scene? And why?
At first, I started to write up a lost and it got quite long, but it really doesn't matter. I like anybody who is smart, witty, clever or at least good-looking…
Morality or money?
So far nobody has tried to corrupt me, so I don't know.
Extraordinary book?
As I took a decision not to write up a list, maybe just one: Buñuel and Carriére – My Last Breath.
Optimist, pessimist, nihilist?
Anarcho-anarchist!
Do you have any hobby?
A secret one.
Solo or in a collective?
I was first in running and climbing at school, but my PE marks were poor. Now guess.
Slovakia as the Promised Land?
To whom?